Alan J. Thomson
B.Sc. DLSHTM M.Sc. Ph.D

Victoria, BC, Canada

email: ajthomson@AdaptiveKM.com

Innovation Diffusion:

Diffusion is
the process by which an innovation is communicated through certain channels over time among members of a social system (Rogers 1995:5)
Innovations are described by five attributes:
Relative advantage: the degree to which an innovation surpasses the idea it supersedes
Compatibility: the degree to which the innovation is compatible with the values, needs and norms of the population
Complexity: the extent to which the innovation is perceived as difficult to understand or use
Trialability: the ease with which people can try out the innovation
Observability: the degree to which others can observe the innovation
A model of the innovation diffusion process in which the effects of the 5 innovation attributes on adoption by a population are mediated by "fitness" and "exposure" (Thomson et al. 2004):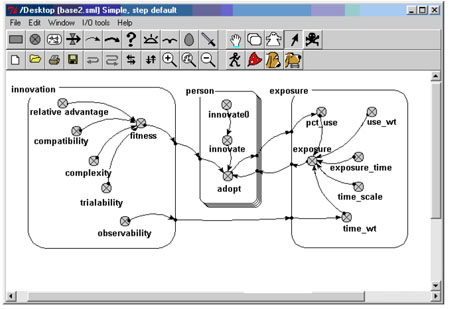 Figure: Model of the innovation diffusion process mediated by "fitness" and "exposure"
Understanding innovation diffusion processes helps increase the likelihood of adoption of systems or new policies or practices.
---
Innovation Diffusion publications:

Thomson, A.J. 2008. Diagnosis of sparse adoption data using an expert system-guided innovation diffusion simulation model. The Innovation Journal: The Public Sector Innovation Journal, Volume 13(3), 2008, article 11 [available at http://www.innovation.cc/peer-reviewed/thomson1dec2008jag_rev12i11.pdf]

Innes, T., Green, C. and Thomson, A. 2005. Surprising Futures. Pages 24-48 In: L. Hetemaki and S. Nilsson (eds.), Information Technology and the Forest Sector. IUFRO World Series Volume 18. Vienna, Austria: International Union of Forest Research Organizations. 235 pp. (http://www.metla.fi/julkaisut/muut/ICT-forest-sector-2005.pdf)

Thomson, A., M. Haggith and R. Prabhu. 2004. Innovation diffusion: predicting success of system development. Proc. 15th International Workshop on Database and Expert Systems, Zaragoza, Spain, 30 Aug-3 Sept 2004: 627-631. IEEE Computer Society.

Haggith, M., R. Prabhu, C.J.P. Colfer, B. Ritchie, A. Thomson and H. Mudavanhu. 2003. Infectious Ideas: Modelling the Diffusion of Ideas across Social Networks. Small-scale Forest Economics, Management and Policy, 2(2): 225-239.